TSMC Reportedly in Charge of A8X Chip Production for 12.9-Inch iPad [Updated]
Taiwan Semiconductor Manufacturing Company (TSMC) has landed the contract to produce Apple's A8X chip that will be featured in the company's forthcoming 12.9-inch iPad, according to Digitimes. The report notes that the processors will be intended for "Apple's next-generation iPad to be released in early 2015," and lines up with a report earlier year from Taiwan's TechNews which shared similar details.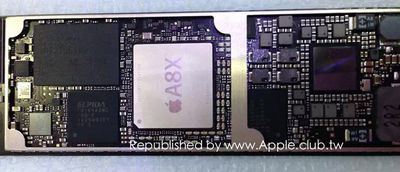 Sources close to the production of the A8X also state that the chip is being manufactured with the same 20-nanometer process used for the A8 chip that is found in the iPhone 6 and iPhone 6 Plus. However, the report also notes that the A8X's bigger system-on-a-chip may create potential yield rate issues for TSMC.
Recent part leaks have indicated that the A8X chip will likely debut with the iPad Air 2, which is expected to be unveiled alongside the next-generation Retina iPad mini at an event this Thursday.
It is unknown as to whether the company will also unveil the 12.9-inch iPad at the event, however the The Wall Street Journal noted that Apple was delaying mass production of the 12.9-inch iPad to deal with strong iPhone 6 Plus demand. A report from Bloomberg in August also claimed that the 12.9-inch iPad would be launching in 2015.
Update: While the report was presumed to be referring to the rumored 12.9-inch iPad based on the expectation the device will be "released in early 2015", it is possible it could actually be referring to the second-generation iPad Air, which is all but confirmed to be unveiled tomorrow and has already been seen to carry the A8X chip in leaked logic board photos.