Carl Icahn Asks for Accelerated Stock Repurchase Program in Letter to Apple's Tim Cook
In a letter addressed to Tim Cook today, activist investor Carl Icahn praises Apple for its innovation, while again asking the company to accelerate its stock repurchase program. Icahn previously pressured Apple to increase its stock buyback program to as much as $150 billion, but dropped that bid following Apple's decision to repurchase $14 billion shares in February of this year.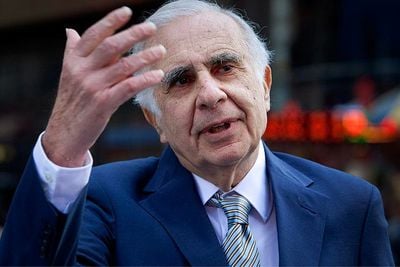 Icahn continues to note that Apple is "dramatically undervalued in today's market" with its shares trading at half of Icahn's estimated $203 value. This valuation is likely to change as Apple's new product lineup chips away at Android's market share.
While we recognize and applaud the company's previously increased share repurchase authorization, we ask you to consider our advice once again (to the benefit of all shareholders) and consider accelerating share repurchases again via a tender offer. Our valuation analysis tells us that Apple should trade at $203 per share today, and we believe the disconnect between that price and today's price reflects an undervaluation anomaly that will soon disappear.
Icahn calls Apple's new iPhone models "best in class" and applauds Apple for growing its mobile ecosystem of services that surround the handset, including Apple Pay, HealthKit, and more.
Beyond simple price comparison, we see the iPhone as best in class, supported by expert reviews and by the lines of people all over the world waiting to buy it. Perhaps most importantly, we believe the iPhone will take market share because its merits are no longer viewed in isolation from the overall Apple ecosystem of products and services, which include iOS, iPad, Mac, Apps, App Store, iCloud, iTunes, and (more recently) Apple Watch, Apple Pay, Home, Health, Continuity, Beats. With the iPhone as the foundation, Apple's ecosystem has come to play an important role in the daily life of Apple users, and while Apple continues to make impressive strides to improve it, the competition falls behind in what is arguably the most important race of this technological era.
For its part, Apple has acknowledged Icahn's letter but given no indication on its plans for the future beyond its current policy of reviewing the capital return program on an annual basis.
We always appreciate hearing from our shareholders. Since 2013 we've been aggressively executing the largest capital return program in corporate history. As we've said before, we will review the program annually and take into account the input from all of our shareholders.
Icahn disclosed last year that his holding company had taken a large position in Apple with Icahn now owning 53 million shares of AAPL. Icahn's note follows Apple's April announcement of an increased stock repurchase program that authorizes the purchase of up to $90 billion in stock and a 7:1 stock split that was instituted in June 2014. As part of its capital return program, Apple pledged to return more than $130 billion to shareholders by the end of 2015.