iTunes Store Now Accepting Donations for City of Hope Medical Center
Apple has launched a new page on its iTunes Store allowing users to donate to City of Hope, which is a non-profit charity focusing on medical research and treatment for cancer, diabetes, and other conditions. The page can be accessed through the desktop iTunes Store as well as the iTunes and App Store apps on iOS, with options for $5, $10, $25, $50, $100, and $200 donations available.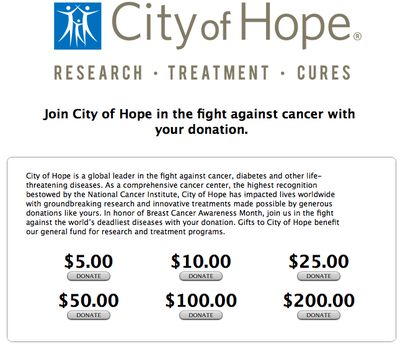 Apple will transfer 100% of each donation to City of Hope, as all donations will be billed to an iTunes account. With Apple currently holding 800 million iTunes accounts, the company has a large customer base that can take part in the donation program.
Apple has conducted similar donation campaigns throughout the past few years, which include programs for Super Typhoon Haiyan relief efforts in 2013, Superstorm Sandy relief in 2012, Japanese earthquake and tsunami relief in 2011, and Haitian earthquake relief efforts in 2010.