Apple Says iOS 8.0.2 Update is in the Works, Directs Users to Reinstall iOS 8
Earlier today, Apple released iOS 8.0.1, which ended up disabling cellular service and Touch ID on many iPhone 6 and 6 Plus devices. Apple said that it was investigating the issue this afternoon, and it has now released a support document confirming that an iOS 8.0.2 update is in the works with a fix.
In addition to announcing the upcoming update, the document also points users towards an interim fix involving reinstalling iOS 8 via iTunes.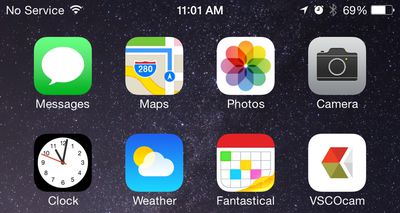 The document offers the same advice Apple support representatives have been giving to customers since the issue first surfaced, directing users to download iOS 8 and reinstall it on their devices using iTunes. Apple's specific steps are as follows:
Follow these steps to reinstall iOS 8.0.

1. Make sure that you're using the latest version of iTunes.

2. Connect your iPhone to iTunes.

3. Back up your iPhone in iTunes on your Mac or PC. iCloud backups won't restore to earlier versions, including iOS 8.0.

4. Download the file below that corresponds to your device:
- iPhone 6
- iPhone 6 Plus

5. Select the file you just downloaded by doing one of these in iTunes:
- Mac: Press the Option key and click Check for Update.
- Windows: Press the Shift key and click Check for Update.

6. Press Update to install iOS 8 on your iPhone.

The Health app won't work in iOS 8 after these steps. It will be fixed in our upcoming iOS 8.0.2 software update.
Apple has pulled the iOS 8.0.1 over-the-air update, but the software was available to customers for approximately an hour and fifteen minutes, leaving many users with broken devices. According to the Apple, iOS 8.0.2 is already in the works with a fix and will be ready "in the next few days."
iOS 8.0.1 originally fixed a significant HealthKit bug that popped up just ahead of the public release of iOS 8. Apple pulled all HealthKit enabled apps from the App Store due to the issue, and iOS 8.0.1 fixed the original bug, allowing the apps to be redistributed. The update also included fixes for third-party keyboards, Reachability, Photo Library, SMS/MMS messages, and more.