Apple Releases iOS 8.0.1 With Fixes for HealthKit, Keyboards, and More [WARNING: iOS 8.0.1 Causing Issues With Cell Service, Touch ID]
Apple today released iOS 8.0.1, an update that brings several bug fixes to iOS 8, the new operating system released to the public last week. The new version arrives as build 12A402 and can be downloaded via an over-the-air update.
The new update fixes an issue with HealthKit, which prevented apps that support HealthKit from being allowed in the App Store. The problem with HealthKit first came to light shortly before the public launch of iOS 8, and Apple opted to pull all HealthKit-enabled apps from the App Store until a fix was available. Following today's update, apps that take advantage of the HealthKit API will once again be accepted into the App Store.
As noted in yesterday's report on iOS 8.0.1, the update also fixes several other issues with third party keyboards, Reachability, Photo Library, and more.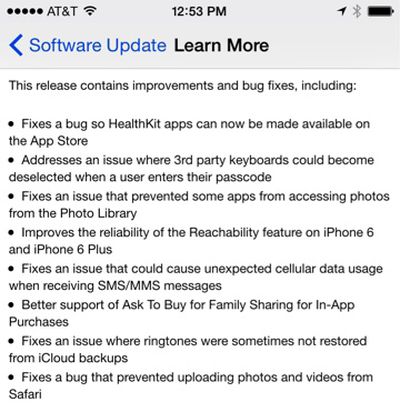 - Fixes a bug so HealthKit apps can now be made available on the App Store
- Addresses an issue where 3rd party keyboards could become deselected when a user enters their passcode
- Fixes an issue that prevented some apps from accessing photos from the Photo Library
- Improves the reliability of the Reachability feature on the iPhone 6 and iPhone 6 Plus
- Fixes an issue that could cause unexpected cellular data usage when receiving SMS/MMS messages
- Better support of Ask To Buy for Family Sharing for In-App Purchases
- Fixes an issue where ringtones were sometimes not restored from iCloud backups
- Fixes a bug that prevented uploading photos and videos from Safari
Apple will likely be releasing a second update to iOS 8 in the coming weeks, in order to enable Apple Pay, its mobile payment service expected to be released to the public in October.
Update: It appears that there is an issue with iOS 8.0.1 causing cellular service to be disabled. Many early installers are reporting "No Service" messages after updating. There are also reports of problems with Touch ID.