Apple Releases iOS 8.0.2 With Fix for Cellular Issues, Broken Touch ID
Apple has just released iOS 8.0.2, its second update to iOS 8 designed to fix major issues introduced with iOS 8.0.1, which went out to iPhone owners on Wednesday.
iOS 8.0.2 is available immediately as an over-the-air download and in addition to fixing the cellular issue introduced with iOS 8.0.1, it also includes the bug fixes that were included in the original iOS 8.0.1 update.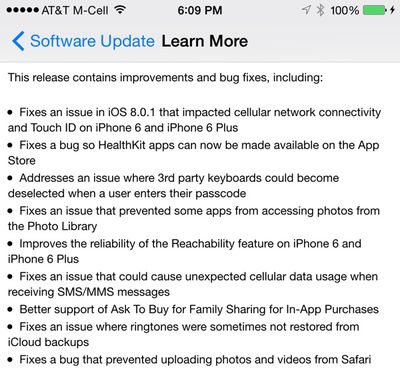 After installing iOS 8.0.1 yesterday, many iPhone 6 and 6 Plus users found that their cellular service was disabled and that Touch ID was non-functional. Apple pulled the iOS 8.0.1 update approximately an hour and fifteen minutes after it was first released, but not before numerous iPhone users were able to download the software. The company announced an investigation in the afternoon, and in the evening, released a support document saying iOS 8.0.2 was in the works and directing users to fix the problem via an iTunes restore to iOS 8.
iOS 8.0.1 contained a fix for a major HealthKit issue that was discovered just before the public release of iOS 8, prompting Apple to remove all HealthKit enabled apps from the App Store. Following iOS 8.0.1 and iOS 8.0.2, these apps will be able to return to the App Store. The updates also bring fixes for third-party keyboards, Reachability, Photo Library, SMS/MMS messages, and more.
Update: According to Apple, less than 40,000 iPhone 6 and 6 Plus devices were affected by yesterday's iOS 8.0.1 bugs. Apple has also issued an apology alongside the release of iOS 8.0.2:
"iOS 8.0.2 is now available for users, it fixes an issue that affected iPhone 6 and iPhone 6 Plus users who downloaded iOS 8.0.1, and includes improvements and bug fixes originally in iOS 8.0.1. We apologize for inconveniencing the iPhone 6 and iPhone 6 Plus users who were impacted by the bug in iOS 8.0.1."
Update 2: Multiple users in Australia are still reporting both Touch ID and cellular connection issues after installing iOS 8.0.2.