Apple Working with U2 on New Music Format to Boost Digital Music Sales
Apple and U2 have a long history of working together, producing a special edition U2 iPod in 2008 and more recently releasing the band's latest album, "Songs of Innocence," for free. According to Time, Apple and U2 reportedly now are collaborating on a new music format that will boost digital music sales.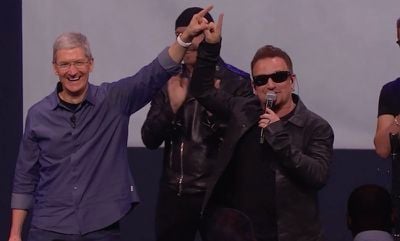 Details on the music format or the secret project surrounding it were not revealed, but U2's Bono says it will help musicians sell more of their music.
Bono tells TIME he hopes that a new digital music format in the works will prove so irresistibly exciting to music fans that it will tempt them again into buying music—whole albums as well as individual tracks. The point isn't just to help U2 but less well known artists and others in the industry who can't make money, as U2 does, from live performance. "Songwriters aren't touring people," says Bono. "Cole Porter wouldn't have sold T-shirts. Cole Porter wasn't coming to a stadium near you."
Digital music sales are declining as consumer interest in online streaming services such as Spotify and Pandora grows. According to Nielsen SoundScan data from the first half of 2014, digital album sales fell 15 percent year over year, while digital track sales fell 13 percent. At the same time, streaming music increased 42 percent.
In the U.S., iTunes currently is the market leader for digital music downloads, but Apple is not blind to the steady decline in these digital music sales. The company launched the Pandora-like iTunes Radio along with iOS 7 and recently purchased Beats Music for $3 billion.