Apple's iTunes Radio Becomes Third Most Popular U.S. Music Streaming Service
Less than six months after its launch alongside iOS 7 last September, Apple's iTunes Radio has become the third most popular music streaming service in the United States, according to a new report from Edison Research and Statista (via Fortune).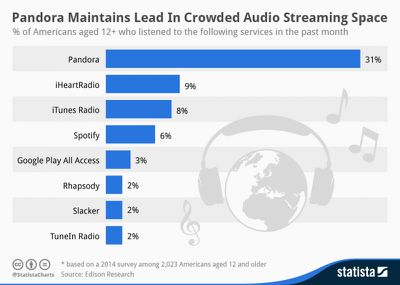 While Pandora and iHeartRadio took first and second place with a 31% and 9% share of the market respectively, iTunes Radio accounted for an 8% share with over 20 million users, passing Spotify's 6%. Apple's streaming service also passed the likes of competitors such as Google Play All Access, Rhapsody, Slacker, and TuneIn Radio.
While users can hop between services freely (and at least one report has suggested that 92 percent of iTunes Radio listeners also find time for Pandora), that figure would suggest that iTunes Radio is growing at the fastest rate of the top three services, and is likely to overtake iHeartRadio in the next quarter or two.
Apple launched iTunes Radio in Australia last month, as the company looks to ultimately have the service "in more than 100 countries," according to senior vice president of Internet software and services Eddy Cue. The company will be able to roll out its service to additional countries more quickly than competitors due to its existing international rights deals with Universal Music Group and other record companies.