U2 Said to Play 'Significant Part' in Tomorrow's Apple Event
Last week, rumors suggested that Apple was planning to involve U2 in its upcoming iPhone 6 launch, with the band possibly performing at the event or including its new album on the iPhone 6. Those rumors were later dismissed by a U2 spokesperson, but it appears U2 may indeed be a part of tomorrow's event.
According to a new report from The New York Times, U2 will play a "significant part" in Apple's event at the Flint Center. Not only will U2 play at the event, its upcoming album will be integrated into Apple's products in some way.
Extending a decade-long connection with Apple, U2 will play a significant part in Apple's event, which will be held at a performing arts center in Cupertino, Calif., the company's home base, according to three people briefed on its plans. In addition to performing, the band will reveal an integration with Apple's products that is connected to its next album, which is expected to come out by the end of the year, according to these people, who spoke anonymously because the band's appearance -- and its deal with Apple -- is supposed to be a surprise.
Apple and U2 have had a long partnership, as Steve Jobs and Bono were good friends. Starting in 2004, Apple released several special edition U2 iPods, which included the band's signatures and U2's music. Apple has also been a longtime partner of (Product) RED, a charity founded by Bono, so another major partnership is no surprise.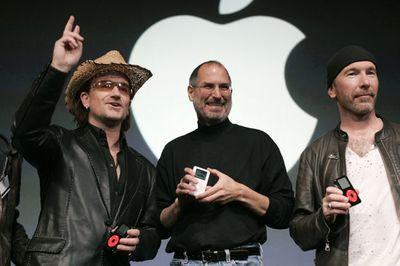 It is not clear exactly what U2 will reveal on Tuesday or how it will be connected to Apple, but
The New York Times
says that reports suggesting the iPhone 6 will come with U2's newest album were false. Instead, U2's deal with Apple will see the band's music released in an "innovative way" with Apple's event serving as a "big, splashy stunt to generate publicity."
Apple, for its part, has been building a massive structure at the Flint Center at De Anza college, where its iPhone event will be held. Some rumors have suggested that the structure could be a stage, with a Cupertino resident remarking that it "looked like a sound stage going up for a rock concert."
Tomorrow's event, which will kick off at 10 a.m. PST, is expected to be Apple's biggest event in some time. The company will debut the iPhone 6 in 4.7 and 5.5 inch varieties and it is also said to be unveiling both its long-rumored wearable device and a new payments initiative involving both the iWatch and the iPhone 6.