Apple Homepage Now Redirecting to Event Countdown Ahead of Tomorrow's Announcements
With less than 24 hours to go until tomorrow's major media event, Apple has begun redirecting its entire homepage in the U.S., Apple.com, to Apple.com/live, which displays a countdown to the event. Apple's move to redirect all homepage traffic to its event countdown is undoubtedly an effort to ramp up anticipation for its upcoming announcements.
Apple's promotion of the event along with its location at the Flint Center, where the original Mac was unveiled, suggests that Apple has something huge in the works for tomorrow's announcements. While Apple's media events are always major affairs, Apple has made an extra effort this year to build up hype for the big unveiling.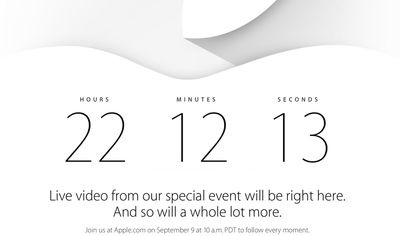 Apple has plans to live stream the event on its website and the company will likely stream the event to the Apple TV with a dedicated channel, as it has done for past events. MacRumors will be providing live coverage of the event, both on MacRumors.com and on the MacRumorsLive Twitter account for those unable to watch Apple's live stream.
Tomorrow's event kicks off at 10 a.m. Pacific Time at the Flint Center at De Anza College in Cupertino. Apple is expected to unveil a multitude of new products and services, including two versions of the iPhone 6, its much-rumored wearable device, and its mobile payments initiative.