Apple Suppliers Said to Be Ramping Up Component Production for Thinner, Faster iPad Air 2
Apple's supply chain partners have ramped up production for components to be used the company's upcoming second-generation iPad Air, reports Digitimes. Citing sources close to production, the report claims that the device will remained unchanged in terms of size and resolution, but will feature a thinner profile, faster processor, and an improved Touch ID fingerprint sensor.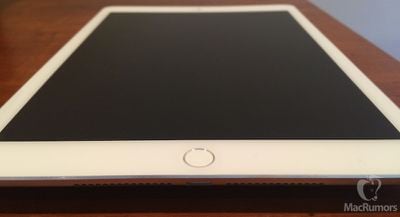 iPad Air 2 mockup with Touch ID home button


Apple has also called on touch panel suppliers TPK and GIS to manufacture full-lamination units for the device ahead of its launch this fall. The source also notes that Sharp, Japan Display, and LG Display have also seen their orders increase for the iPhone, likely indicating that Apple is now mass producing screens for the iPhone 6.

Previous leaks have also pointed to a thinner profile for the iPad Air 2, along with reports claiming that the device will feature anti-reflective coating, and an improved Touch ID sensor. It is also most certain that Apple will include a faster processor in the iPad Air 2, as the company will likely integrate its new A8 chip in the device.

Apple will likely launch the iPad Air 2 alongside the next-generation iPad mini with Retina display this fall. The company is also said to be preparing to launch a 12.9-inch iPad in early 2015.