Pre-Launch Adoption of OS X Yosemite 33 Times Higher Than for Mavericks
Adoption of OS X Yosemite is steadily increasing ahead of its fall launch, due to both a system-wide redesign and the introduction of a public beta for the first time. As of August, Yosemite was installed on approximately 2.6 million machines or 3.3 percent of all Macs, according to new numbers from Net Applications (via Computerworld).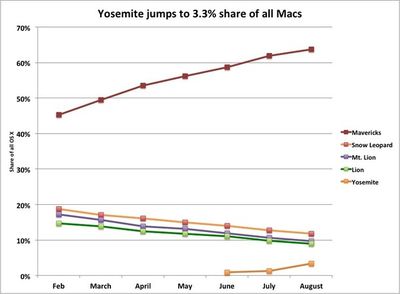 For August, Yosemite powered 3.3% of all Macs, according to metrics vendor Net Applications. That was 33 times the user share of its predecessor, OS X Mavericks, in September 2013, one month before its official launch, and nearly one-third of Mavericks' share the following month, when it was first made available to all customers.
In June, adoption rates were at 0.9 percent, jumping up to 1.2 percent in July. The 3.3 percent number comes after the introduction of the public Yosemite beta in late July, which saw as many as 1 million registered beta program members receiving access to the software. Following the launch of the beta, Yosemite's share of global Mac traffic nearly doubled.
Though the public beta has bolstered Yosemite's adoption numbers much higher than Mavericks adoption rates during a similar time frame last year, developer interest in Yosemite has also been high. July adoption numbers from before the public beta release suggested Yosemite beta usage was four times higher than Mavericks usage last year.
Operating system usage metrics can very widely, however, as Yosemite installation numbers from GoSquared are quite a bit different. According to GoSquared, machines running OS X Yosemite have accounted for just one percent of total Mac OS traffic over the past several hours, and 0.58 percent since launch. Though GoSquared points towards lower overall adoption numbers, it does show a fairly steady increase in Yosemite usage.


Last year, seven percent of all Mac users had installed OS X Mavericks just 24 hours after its public launch. Based on public beta numbers and high developer interest, it's likely that Yosemite Adoption will be even more rapid following its public launch. In addition to offering a revamped look, OS X Yosemite includes several features like iCloud Drive and Continuity, allowing Macs to interact with iOS devices in new ways.
OS X Yosemite is currently available only to registered developers and those who signed up for the public beta test. The operating system, which will be provided to consumers at no cost, is expected to see its public release in the fall, possibly in October.