New Photos of Claimed iPhone 6 Parts Show Closer Look at Rear Logo, Revamped Speaker
New photos of various components said to be from the iPhone 6 have been shared by Nowhereelse.fr (Google Translate), giving us a glimpse at both internal and external parts to be used in the device.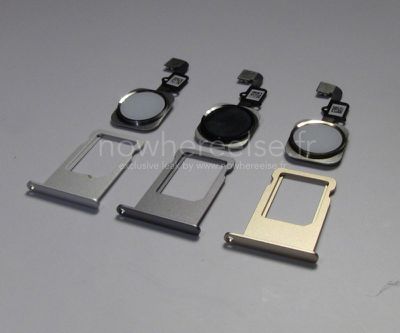 The first set of images show SIM card trays and home buttons in a range of three different colors, which may indicate that the iPhone 6 will keep the same space grey, gold, and silver options from the iPhone 5s. This is in line with a previous leaks, including one from last month which also showed SIM trays in three different colors. The SIM trays shown in the photos also appear to be slightly curved, and was likely designed with the iPhone 6's thinner, rounded chassis in mind.


Another set of photos shows the embedded Apple logo, which has also surfaced in other leaks. However, Nowhereelse indicates that the logo scratches under regular pressure with a knife, and contrasts prior speculation that the logo was made of scratch-resistant metal. Apple has not used an embedded Apple logo on its mobile devices since the original iPhone back in 2007.


Finally, the last set of photos show the internal speaker and vibrator motor of the iPhone 6. Both components appear to be different than their predecessors found in the iPhone 5s, as the internal speaker appears to be larger while the vibrator motor now sports a rectangular design.
According to Re/code, Apple is expected to announce the iPhone 6 on Tuesday, September 9. It is likely that the 4.7-inch version of the device will go on sale about a week later, while the 5.5-inch version may be released at a later time due to production delays. A report yesterday from Re/code also stated that Apple will unveil a wearable device at the event.