More Evidence of NFC Support for Both iPhone 6 Models
Last week, Chinese repair firm GeekBar shared a claimed schematic for the iPhone 6 showing what was claimed to be the pinning diagram for the device's rumored near field communications (NFC) chip. The part addressed on the schematic, PN65V, was thought to be a version of NXP's PN65 NFC package currently used in several Android devices.
The leak is one of several schematics shared by GeekBar over the past week and a half, and while some of the components have been misidentified, it is looking increasingly likely that the schematics themselves are legitimate. Seen in that light, it is worth taking a look back at the NFC claim to see if there is additional evidence for it.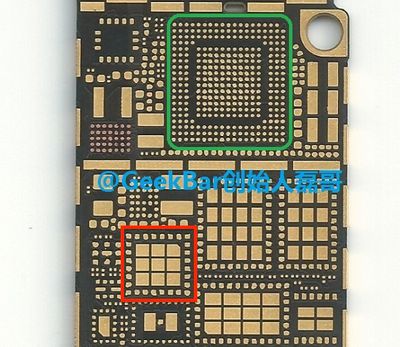 Closeup of 4.7-inch iPhone 6 logic board with likely NFC chip location boxed in red, LTE modem boxed in green
MacRumors
forum member
chrmjenkins
has pointed us toward a
document
showing the package used by NXP for its PN65, noting that it measures 5 mm x 5 mm with 32 terminals for connectivity. In examining the
bare logic boards
from the 4.7-inch and 5.5-inch iPhone 6 models,
chrmjenkins
believes he has spotted where that chip will be located.

Broader view showing likely NFC chip location boxed in red: 4.7-inch iPhone 6, iPhone 5s, 5.5-inch iPhone 6 (left to right)
The location on the board is a square patch that does not correspond to any component from the iPhone 5s logic board, indicating that it may indeed be for a new component such as an NFC chip. Existing components may of course see changes in shape between generations, but many of the current major components can be mapped reasonably well to locations on the iPhone 6 logic boards, leaving relatively few candidates for this new square patch.
Rumors of NFC for the iPhone have circulated for years, but they have yet to come to fruition. As a result, this year's crop of NFC rumors has understandably been greeted with skepticism, although the volume and specificity of the rumors has seemed greater this time around, with multiple sources pointing toward an NXP chip solution for the iPhone. And with Apple rumored to be making a push into mobile payments as soon as later this year, the time may finally be right for Apple to bring NFC to the iPhone.