Beats Music Launches Promotional iTunes Festival Contest
In an attempt to garner new users from parent company Apple, Beats Music has launched a contest to coincide with the upcoming London iTunes Festival. Beats Music's #GoWithMe contest is offering 25 Beats Music users in the United States a chance to win two tickets to see one of several musical acts during the festival, with the prize package including airfare to London and hotel accommodation.
Users do not need to pay for Beats Music to enter the contest, but a Beats Music account is required. After signing up for an account, Beats listeners can enter to win tickets to one of five performances by navigating to the artist's page on the Beats Music site: Kiesza, Calvin Harris, Pharrell Williams + Jungle, Maroon 5 + Matthew Koma, and Ed Sheeran + Foy Vance.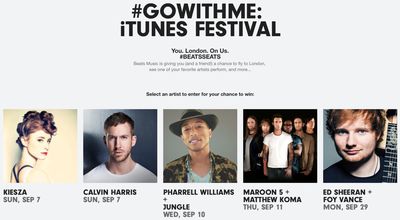 Tickets to the London iTunes Festival traditionally are available for free, but are distributed through iTunes via a lottery system due to extremely high demand. Beats Music will announce the winners of the contest on August 28.
Announced last month, Apple's London iTunes Festival will begin on September 1 and run for 30 nights, with a different musical act performing each night. Announced performers include deadmau5, Pharrell Williams, Maroon 5, Lenny Kravitz, Mary J. Blige, and more. While most performances have been revealed over the last couple of weeks, two performers remain unknown.
Apple has been heavily promoting Beats Music in recent weeks, adding Beats Music to the list of "Apps Made by Apple," encouraging new iOS users to download the app, and sending out emails about Beats Music. The promotions have been somewhat successful, temporarily skyrocketing the Beats Music app to the top 10 free apps chart in the App Store. Beats Music wasn't able to retain its position on the charts, however, and has dropped back down to number 30.