Apple has seemingly halted in-store pickup for the Apple TV in its online store, as none of the company's U.S. locations are providing the option. Notably, the Apple TV is still listed as shipping"within 24 hours" on the company's online store, and is still being offered with a $25 iTunes Store gift card as a part of an ongoing promotion.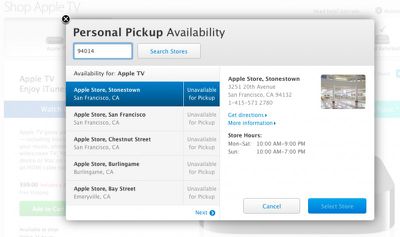 Currently, it is unknown as to why Apple halted the pickup option for the Apple TV. It is entirely possible that the inability to schedule an Apple TV for in-store pickup is an outage or error on Apple's part. While mostly unlikely, it may also indicate that Apple is gearing up to release an updated Apple TV, which has been heavily rumored for quite some time.
Czech website Letem Svetem Applem (Google Translate) claimed last week that European Apple resellers have stopped receiving their supply of Apple TVs, however no other sources have indicated that stock has been running low. In the United States, retailers such as Best Buy and Amazon still show the product as "in stock".
Previous rumors have suggested that the next-generation Apple TV would be a major product for Apple, featuring set-top box features that interact with live and on-demand content, gaming capabilities, Siri integration, and more. However, a report from The Information this past July claimed that the new Apple TV would be delayed until 2015 due to negotiation difficulities between Apple and cable companies. Apple's SVP of Internet Software and Services Eddy Cue stated earlier this year that it was "complicated" solving problems with TV, adding that Apple is continuing work on the subject.
Thanks, Kyle!