References to Siri for Apple TV Found in iOS 7.1 Code
Amid persistant rumors that Apple is developing a revamped Apple TV set-top box, new code appearing in iOS 7.1 indicates that the company is indeed working on building in support for Siri voice input on the Apple TV, as highlighted by 9to5Mac. The references are included in both iOS 7.1 and iOS 7.1.1, but not in earlier releases such as iOS 7.0.6.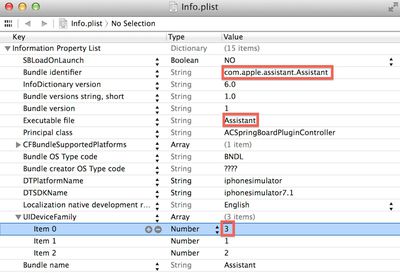 The file is a supporting property-list resource for Assistant (Apple's internal name for Siri), containing information about the feature. The UIDeviceFamily array declares what platforms are compatible with the feature.

As shown by Apple's documentation, '1' and '2' represent the iPhone/iPod touch and iPad families. The '3' represents the Apple TV family.
References to a new Apple TV model were previously found in iOS 7 builds, and today's information suggests that voice input and feedback are likely to be included on the new device.
Apple's launch plans for a new Apple TV box remain unclear, with rumors of a late 2013 launch giving way to reports centering around an introduction in March or April of this year. Those rumors were then quashed by The Loop's Jim Dalrymple, leaving uncertainty about Apple's television plans. A recent product roadmap prediction from KGI Securities analyst Ming-Chi Kuo indicated that the new Apple TV could arrive around September or October of this year.