Apple Once Again Offering $25 iTunes Gift Card With Apple TV Purchase in iTunes Festival Promotion
Ahead of its London iTunes Festival in September, Apple is promoting its Apple TV with a bundle deal offering a $25 iTunes gift card with each Apple TV purchase (via 9to5Mac). The gift card can be used to purchase apps, music, and movies available in the iTunes Store, and the promotion is valid through September 30.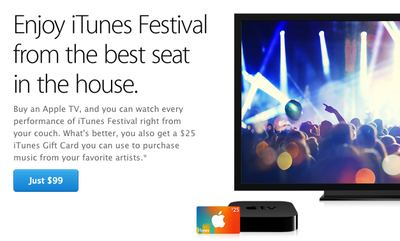 Earlier this year, Apple offered a similar $25 gift card promotion that sparked speculation about a possible imminent launch of an updated Apple TV. These rumors turned out to be false, and Apple is still selling the same third-generation model that saw its last substantial update in early 2012. Though this latest promotion offers a $25 gift card, the Apple TV still retails for its original $99 price tag.
The current crop of rumors suggests a 2015 update for Apple's television-related hardware, with delays to a rumored set-top box interfacing with live and on-demand content reportedly due to ongoing negotiations with cable companies. Rumors have indicated the next-generation Apple TV may include an App Store, support for wireless game controllers, Siri integration and more, although it is unclear whether Apple plans to split the television lineup between the full-featured set-top box and an improved Apple TV or if everything will be bundled into a single Apple TV product.