New Apple TV Likely Delayed Until 2015 Due to Negotiation Difficulties
For several months now, rumors have continually suggested Apple is working on a new television product, which may be an updated set top box with capabilities like support for games and apps and expanded access to television content.
Every rumored release date has come and gone thus far, and according to a new report from The Information, a new television-related product is not likely to appear until 2015.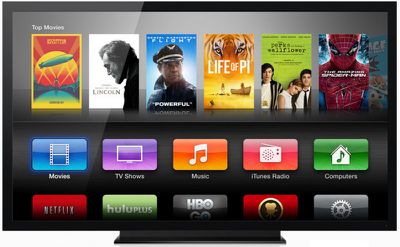 A source that spoke to The Information has suggested that Apple engineers who are working on the new television product have been informed that the device will not launch in 2014, largely due to ongoing contractual issues with cable companies and Comcast's pending purchase of Time Warner Cable.
Apple engineers who are working on aspects of the device have been told by their bosses not to expect a launch this year and are working off timelines that assume a launch next year, according to a person familiar with the plans. Apple employees have cited cable companies "dragging their heels" and the pending Comcast-Time Warner Cable merger as reasons the device and accompanying TV service haven't launched.
Conversely, sources in the television industry have denied that cable companies are behind the delay, suggesting Apple has "bit off more than it can chew," and needs permission from many different rights holders to "create the service it wants to offer."
Over the years, various rumors have pointed towards very ambitious plans for an expansion of the Apple TV, suggesting Apple once aimed to create a subscription television service that would potentially replace cable packages. Due to a continual inability to negotiate a deal with cable companies, Apple is said to have scaled back on its television ambitions, aiming to work with cable companies rather than against them.
The most recent content rumors from February of 2014 have suggested Apple is working to wedge itself between cable companies and consumers, potentially providing content from cable companies through its set-top box, overlaid with an Apple TV-style interface. Apple is also seeking to add DVR capabilities to the service.
In 2013, Apple was said to be close to completing a deal with Time Warner Cable over a possible TWC Apple TV app, allowing Time Warner subscribers to watch live television through the Apple TV, but the negotiations may have stalled due to the pending Time Warner-Comcast merger.
Earlier this year, a product roadmap from KGI Securities analyst Ming-Chi Kuo pointed towards a Q3 2014 launch date for the redesigned Apple TV, but based on The Information's new data, it seems any potential launch plans have now been pushed back.