Apple Debuts New 'Life on iPad' Webpage, Documenting Ways iPad Improves People's Lives
Apple has published a new page on its website dubbed "Life on iPad", which documents six stories of people using their iPads in various ways to improve their lives. The page, which was first discovered by The Verge, also includes copy highlighting how people have used the iPad in ways that Apple hadn't foreseen.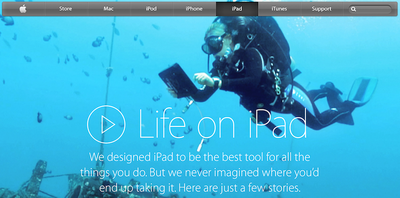 The six stories focus on Siemens Energy-Wind Service, champion speed skater Bridie Farrell, Palmaz Vineyards, Riviera Racing Team owner and driver Mark Post, Broadway director and choreographer Jeff Whiting, and Dr. Itaru Endo, director of digestive surgery and liver transplantation for Yokohoma City University.
All six stories detail how each person and/or company is able to use the iPad to enhance either their lives, careers, and businesess or others' lives. For instance, Dr. Endo's story discusses how he and his team created iPad apps to to reduce the possibility of complications during surgery.
The app uses augmented reality to overlay complex vascular systems during operations. This reveals liver perfusion patterns that are invisible to the human eye, giving greater insight into the exact location of certain blood vessels. The app also shows local blood flow territories and assesses potential risks in real time. "The visualization of liver blood vessels puts surgeons at ease," Dr. Endo explains, "and it helps to ensure that the right incisions are made at the right time."
The new page also includes the "Life on iPad" video that debuted at the company's iPad Air event in October and stays in line with Apple's recent theme of highlighting the iPad's ability to be used for a wide variety of tasks, from everything to games and media consumption and creation to business and educational needs.