Apple Releases iOS 8 Beta 5 to Developers
Apple today released the fifth beta of iOS 8 to developers, two weeks after releasing the fourth beta update and two months since introducing the new mobile operating system at the Worldwide Developers Conference.
The update, build 12A4345d, is available through Apple's over-the-air updating mechanism on iOS devices and can also be downloaded via the iOS Developer Center. Apple has also released a new Apple TV software beta update that includes a redesigned UI.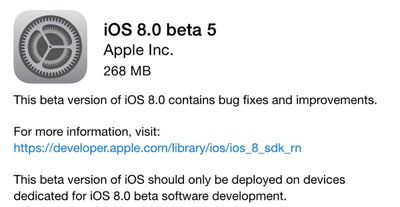 iOS 8 introduces a range of new features, including improved integration with OS X through Continuity, a Health app, Family Sharing features, interactive notifications, a new QuickType Keyboard and improvements to several apps like Safari, Mail, and Messages.
Each beta update thus far has brought refinements and additional features to iOS 8, with beta 4, for example, bringing a new Tips app and a redesigned Control Center, among other improvements. iOS 8 beta 5 adds new options for SMS Relay, new features in Health, and more. For a full list of the changes in beta 5, make sure to check out our iOS 8 beta 5 tidbits post.
Currently, iOS 8 is only available to registered developers, but the operating system is expected to be released to the public this fall after several beta iterations. We may be getting close to the end of the beta testing period, however, as one rumor has suggested iOS 8 beta 5 may be the final beta version while another indicates it's the second-to-last beta before a golden master.