iOS 8 Beta 5 Tidbits: SMS Relay, New iCloud Icons, Health App Updates, and More
Apple today released the fifth beta of iOS 8, which brings a number of improvements, tweaks, and bug fixes to the beta software that was first introduced on June 2.
iOS 8 beta 5, like previous betas, includes several minor interface modifications designed to make iOS 8 feel faster and more polished. We've gathered up a comprehensive list of all the enhancements that have been bundled into the new beta release below, and to find out about all of the under-the-radar changes in iOS 8 so far, make sure to check out our iOS 8 Hidden Features Roundup.
Health: According to the beta's release notes, Apple's Health app now collects Spirometry data. Spirometry tests measure lung function, tracking the volume and flow of air when inhaling and exhaling. The app has gained several new icons, the ability to export Health data, and a "Show When Logged" option to display Medical ID on the lock screen. There are also privacy settings for Health in the Settings app.
SMS Relay: iOS 8 users are getting a popup that asks them to use their phone numbers for SMS Relay on their MacBooks, one of the new Continuity features between OS X Yosemite and iOS 8.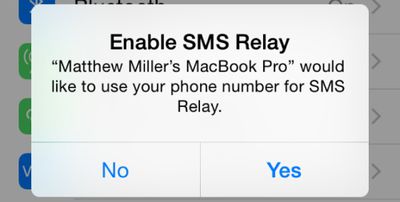 Photos: Photos now displays a "Last Updated" notification to let users know when images were last synced to iCloud. There's also an iCloud Photo Settings option to store full resolution photos solely in iCloud while keeping device-optimized versions available on the iPhone to save storage space.


iCloud icons: iCloud Drive, Backup, and Keychain have new icons in the iCloud section of the Settings app. The overall iCloud icon has also been updated, featuring a white cloud on a field of blue.


WiFi Calling: When WiFi calling is enabled, it's now labeled T-Mobile WiFi at the top of the iPhone screen.


Predictive text: There's now an option on the keyboard to toggle on predictive text.


Wallpaper Settings: The Brightness toggle has been removed from the Wallpaper section of the Settings app. Changing screen brightness can now be done via the Display & Brightness section of the Settings app that was added in a previous iOS 8 beta.
Additional features in iOS 8 beta 5 will be added here as they are discovered. Apple is likely to continue pushing regular updates to iOS 8 at two or three-week intervals to bring minor performance boosts and changes ahead of the operating system's launch. For more information on iOS 8's features, major and minor, make sure to check out our roundups.