iPhone 6 Said to Launch on Tuesday, October 14, Part of 'Incredibly Busy' Month for Apple [Updated]
Apple may be planning to launch the iPhone 6 on Tuesday, October 14 as the month itself will be an incredibly busy one for the company, according to a source that spoke to MacRumors citing an internal Apple Retail Store meeting.
The source notes that a senior Store Leader mentioned October 14th as being an "immense" day for Apple, adding that the whole month of October would be very busy for stores and the company itself. Apple is also said to planning a media event for Tuesday, September 16, coming a month ahead of the device's launch.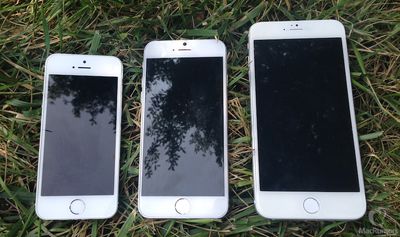 4.7 and 5.5-inch iPhone 6 mockups compared to iPhone 5s


To this point, most reports have pointed to a September announcement and launch for the iPhone 6. However, a report last week claimed that Apple is planning a mid-September event for the iPhone 6 and iOS 8, which would be followed by an October event showcasing the iWatch, OS X Yosemite, new iPads, and new Macs. An announcement event for September 16 would also fall on a Tuesday, which is when Apple typically announces new products.

Apple launching the iPhone 6 on a Tuesday would be a change from past years, as the company has launched previous iPhones and most new hardware on a Friday. However, the source claims that high customer demand and an ample supply due to a large production effort will motivate Apple to start iPhone 6 sales earlier in the week.

It is unknown if an October release for the iPhone 6 would include both the 4.7-inch and 5.5-inch version, as recent rumors have pointed toward several production issues plaguing the larger model. It is possible that the 5.5-inch may launch later in the year or in 2015 after Apple can produce enough devices. In addition to a larger screen, both versions of the iPhone 6 are expected to feature a thinner profile, a faster A8 processor, and an improved camera.

Update: As noted by a number of observers including The AAPL Tree, Apple's financial projections for the current quarter and statements by company executives during the most recent earnings conference call strongly point toward an iPhone 6 launch before the end of the quarter, which falls on September 27. Without an iPhone launch to provide a sales spike, it does not appear possible for Apple to meet its own projections for the quarter.