Eddy Cue: Best Product Pipeline in 25 Years Coming Later This Year From Apple
While it has been a slow start for Apple's product launches thus far in 2014, its flagship iPhone and iPad launches are still to come and it looks like there may be considerably more in the works. That conclusion is based on the level of anticipation shared by Apple's Internet Software and Services chief Eddy Cue at today's Code Conference, as related in a live blog from The Verge.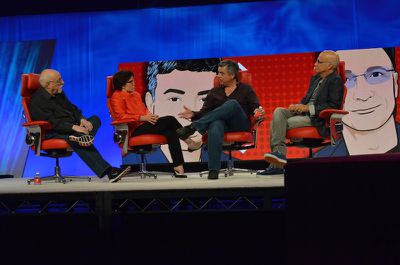 Walt Mossberg, Kara Swisher, Eddy Cue, Jimmy Iovine (Source: The Verge)
During a session in which Walt Mossberg and Kara Swisher sat down with Cue and Beats CEO Jimmy Iovine to discuss the
just confirmed deal
and other topics, Swisher asked Cue about how Tim Cook is as a leader.
Cue responded with some of the usual compliments said about Cook: thoroughness, vision, care, and focus. And as if anticipating a follow-up question about when we will see those qualities having more of an impact on Apple's product pipeline, Cue set a high bar for the remainder of this year:
"Later this year, we've got the best product pipeline that I've seen in my 25 years at Apple."
Cue declined to elaborate on that pipeline, noting only that the products will unsurprisingly be "great".
The first hints of Apple's plans for the remainder of 2014 are likely to be revealed next Monday during the keynote at the company's Worldwide Developers Conference, where Apple executives are expected to show off OS X 10.10, iOS 8, a "smart home" initiative, and likely some hardware, although it is unclear how significant those hardware announcements will be.