iOS Interface Depicted on a Hypothetical 2.5-Inch iWatch Screen
Since news of Apple's iWatch development first surfaced in 2012, supply chain rumors and analyst speculation have all pegged its display size at a modest 1.3 to 1.7 inches. Earlier today, Reuters released a report suggesting the display will be much larger than anyone expected, coming in at 2.5-inches diagonally.
MacRumors forum member Lewis Dorigo has previously speculated that the iWatch would have a 2.45-inch display with a 480x640 display, and has even created a crude mockup depicting what an iWatch of that size would look like on a wrist.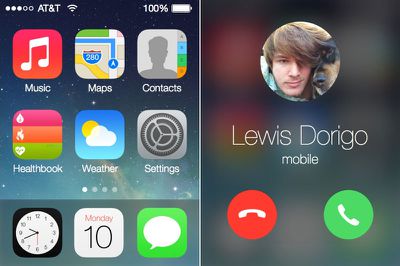 The status bar shows the current connectivity of the device that the watch is connected to. If it's connected to an iPhone, it shows the iPhone's cellular and wifi signal strengths. If it's not connected to a device, it just says "iWatch", much like iPods (and iPads without cellular) do.
On his blog, Dorigo goes deeper into his predictions for the iWatch, explaining that a 2.45-inch iWatch with a Retina display of 480x640 would have same pixel density (326 ppi) as the iPhone 5s, the iPhone 5c, and the Retina iPad mini. He's speculates on what a 2.45-inch iWatch's UI might look like, with the creation of several mockups with an iOS 7-style design.
While several rumors have suggested the iWatch will indeed run iOS, it is still possible that Apple could go in an entirely different direction with the device, creating a standalone interface or an iOS-based interface that deviates from the iPhone's interface.
Dorigo suggests that 80 pixels of the screen might be reserved for a CarPlay-style digital home button, leaving a 240 pixel space for apps, but that's pure speculation -- Apple could also choose to place a physical home button on the side of the device.
Along with a home button built into the screen, Dorigo imagines a largely touch-based interface, where Siri is activated via a press on the screen and individual apps have large, easy-to-press buttons. He also speculates on what the interface might look like when connected to an iPhone, as the iWatch is rumored to be heavily integrated with existing iOS devices.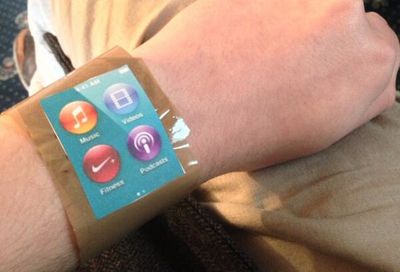 Crude mockup showing size
While Dorigo's speculation gives a look at what a larger iWatch might look like, the device's screen resolution and prospective user interface remain a mystery at this time.
According to rumors, the iWatch is expected to include a range of health sensors, such as a pulse monitor, along with wireless charging capabilities. The iWatch is expected to make its debut in the fall, possibly at an October event.
More of Dorigo's predictions on Apple's iWatch can be found on his blog.