iOS 8 to Expand Manual Controls for iPhone Photographers
Apple is working to open up camera controls in iOS 8, giving photographers granular control over settings such as ISO, shutter speed, and more, reports AnandTech. While only a few manual controls will make it into the stock camera app, almost full manual control will be made available for third-party app developers to implement as of iOS 8.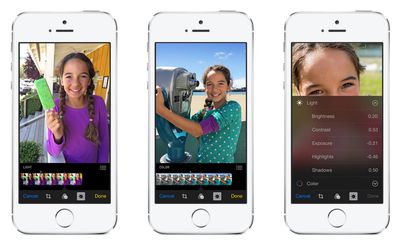 According to AnandTech, iOS 8's AVCaptureDevice APIs will let developers tap into advanced controls such as ISO, shutter speed, focus, white balance, exposure bias, EV bracketing, and shutter speed/ISO bracketing. The ability to manipulate these controls will provide photographers with new ways to creatively compose a shot or a video clip. Developers also can use these controls to offer a variety of camera presets and other behind-the-scenes algorithms that manipulate images during the capture process.
While only the exposure bias controls will make it into the stock camera application, all of these new controls exposed through the AVCaptureDevice APIs will enable camera applications similar to Nokia's Pro Camera or HTC's Sense 6 camera application. It's been said that Apple is one of the few OEMs that take camera seriously, and these new controls can only cement that position.
Apple has steadily boosted camera performance in its iPhone models by improving both the hardware and software that powers this feature. As a result, the iPhone is known for its exceptional camera performance and has been among the most popular cameras on Yahoo's image hosting service Flickr.
The next-generation iPhone 6 is expected to continue this trend with iOS 8 camera improvements such as time-lapse mode as well as new iPhone camera hardware that may include optical or electronic image stabilization, a wider aperture, as well as an ARTON filter to minimize CMOS color shifts.