Amazon Announces 'Fire Phone' With 3D 'Dynamic Perspective' Interface, 'Firefly' Object Recognition Engine
Amazon today unveiled its much-anticipated new smartphone, the Fire Phone, which Amazon calls "refined, beautiful, and robust." The phone has a 4.7-inch LCD HD display along with Gorilla Glass 3 on both sides and "precise" aluminum buttons.
It includes a quad-core 2.2GHz processor, an Adreno 330 Graphics Processor, 2GB of RAM, and dual stereo speakers. There's a 13-megapixel rear-facing camera with an f/2.0 five element lens and built-in optical image stabilization.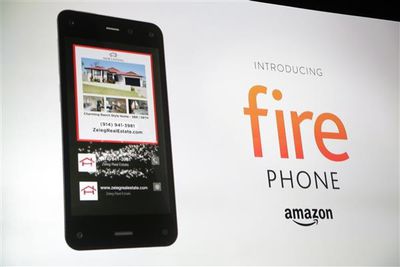 Aiming at Apple, Amazon touted the low-light capabilities of the camera included in the phone and announced free unlimited photo storage through its Amazon Cloud Drive service. Apple recently announced its own iCloud Photo Library, but it offers a limited amount of storage for free.
Along with standard cameras, Amazon's Fire Phone utilizes four additional cameras for a 3D interface, called "Dynamic Perspective." 3D images on the phone change as it is tilted and viewed from different angles, thanks to advanced eye and face tracking capabilities. Demonstrated with a mapping app, the 3D UI displayed a 3D version of the Empire State Building that could be viewed from all angles, with a tilt of the phone expanding the view.
Amazon's Fire Phone accomplishes the facial tracking with its four corner cameras and knows where a user's head is at all times to aid Dynamic Perspective, using infrared for tracking in the dark and advanced algorithms for head continuous tracking.


Accelerometers enable navigation through tilt gestures, demonstrated within a maps app that brought up Yelp when the phone was tilted slightly. Tilting and Dynamic Perspective can also be used in apps and for web browsing -- scrolling through items, zooming in, pulling up menus, and more. There's an autoscroll feature that will scroll through web pages and books automatically, which Jeff Bezos called "incredibly natural." Amazon is releasing a Dynamic Perspective SDK for developers today.
Also included with the phone is a new flagship feature called Firefly, a virtual recognition program able to recognize QR codes, barcodes, objects, and more, which facilitates the discovery and purchase of various items. Firefly is built directly into the Fire Phone with a dedicated button on the side.
On stage, Amazon demoed Firefly scanning barcodes, URLs, and products like games, keeping a record of what was scanned and allowing the info to be used to make purchases, phone calls, and more. Firefly is also able to listen to music and recognize audio like TV shows, much like Siri can now do with Shazam, and it's also able to recognize art, pulling up a Wikipedia page for a painting.
It's a fully featured recognition system that can even read street signs and phone numbers from a distance. According to Amazon, it recognizes a hundred million different items in real world situations, and provides a button so users can buy most of them on the spot. There's also a Firefly SDK that developers can utilize to build Firefly into apps.


As for the phone's UI, it includes an app grid that lets users pin content like books, apps, magazines, and more, and there's also a scrollable carousel of apps at the top of the screen and four common apps on the bottom of the phone's interface. The phone also includes active widgets that can be used when opening a full app is unnecessary.
Both the Kindle Fire's Second Screen and X-Ray feature work on the Fire phone, and users are able to "fling" video from the phone to the Amazon TV, while X-Ray gives details on whatever is being watched. HBO Go, Netflix, YouTube, ESPN, and more are all supposed in addition to Amazon's own video services.
The Fire Phone will also support Amazon's new Prime music service, which the company launched last week, as well as music from Spotify, Pandora, and iHeartMusic, and it will include Kindle and Audible support. Much like the latest Fire tablets, it supports Mayday, a free service that lets users contact customer support representatives for free.
Amazon's Fire Phone is exclusive to AT&T and will be priced at $199/$299 for 32/64GB of storage with a standard contract or carrier agreement. The price includes the phone, stay-flat cables, and premium magnetic earbuds. It can be pre-ordered from Amazon.com and is expected to begin shipping in July.
(Images courtesy of CNET)