iOS 8 Simplifies App Login Process with Safari Password Sharing
Logging into and setting up apps will be easier in iOS 8 thanks to new Continuity APIs Apple has introduced to allow iOS apps to access Safari's stored usernames and passwords. The feature, announced at a developer session at WWDC (via 9to5Mac), will let users quickly log in to an app that is associated with a website they have previously visited.
For example, if a user has accessed Gmail in Safari for Mac or iOS and opted to store a password, that password can then be used to log in to Google's Gmail iOS app with a single tap, greatly speeding up and streamlining the login process. During the session, Apple demonstrated with a test website and app called "Shiny."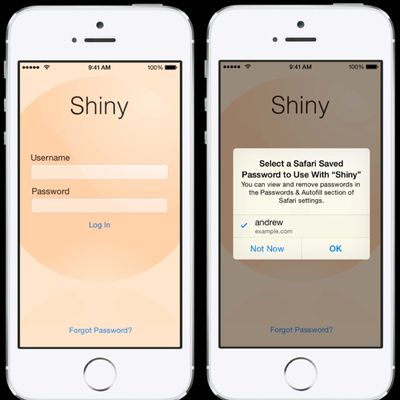 The functionality is available to all developers and has the potential to be built into any third-party app with an accompanying website. Developers will need to associate a website with their app, which will then give them the option to request credentials saved in Safari, offering the option at login.
The process also works both ways. Apps that have an associated website that a user has not visited will be able to store login information to Safari, later letting a user access that stored information on the web when browsing to the site associated with the app.
As part of Continuity, the new Safari/app integration is designed to make it easier to seamlessly switch between devices, cutting down on the frustration of logging into an app. Apple also hopes the new system will increase security, as users can now select Safari's randomized suggested passwords for both apps and websites.