Apple Cracking Down on Apps That Incentivize Ad Watching, Social Sharing
It appears that Apple has begun cracking down on some of the methods that developers use to monetize their apps, including those that offer in-app rewards for viewing videos and sharing on social networks. Providing in-game currency, extra lives, or another incentive for watching an advertisement on another App Store app is common in freemium games, but some apps with these features have begun seeing rejections from the App Store staff.
As noted by TechCrunch and a source that spoke to MacRumors, Apple has been rejecting apps that incentivize social sharing and use ads as rewards since last week.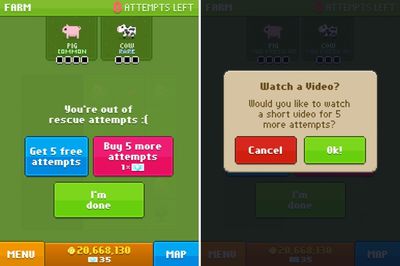 According to one developer, Apple rejected an app that had been previously approved many times after an update that included only a re-skin without changing any core functionality. Apple cited guideline 2.25, which it has used to shut down many app discovery apps like AppGratis, and 3.10, which involves manipulating app rankings.

2.25: Apps that display Apps other than your own for purchase or promotion in a manner similar to or confusing with the App Store will be rejected, unless designed for a specific approved need (e.g. health management, aviation, accessibility, etc.) or to provide significant added value for a targeted group of customers.

3.10: Developers who attempt to manipulate or cheat the user reviews or chart ranking in the App Store with fake or paid reviews, or any other inappropriate methods will be removed from the iOS Developer Program
Screenshots attached to the rejection pointed towards an advertisement within the app for a different game (a violation of 2.25) and a button that rewarded users with in-game coins for watching a video (a violation of 3.10).

The 2.25 rejection is for promoting other apps not your own. The attached screenshot showed an EA game as a "Free Game".

Additionally, your 3.10 rejection was for offering free in-game credits for watching videos of other apps by developers other then yourself.
An Apple representative went on to explain that developers are not able to have a "More Games" or "Other Games" section that points to apps other than their own, and that it is not acceptable for users to watch a video about another app to get in-game credits or benefits. This could have a significant affect on both developers and app monetization companies that use incentivized video like Tapjoy, Flurry, and more.
Other developers have received similar rejections under the same guidelines, with one getting rejected for offering hints after an app was shared on Facebook. Incentives for sharing games on social networks and rewards for watching video ads are two highly popular monetization methods used by countless freemium apps, including major players like Candy Crush.
Apple's crackdown on certain advertising methods being used by app developers may be related to an App Store overhaul that the company plans to introduce alongside iOS 8. iOS 8 will bring several changes to the App Store, including an improved App Store search algorithm, an "Explore" feature, app bundles offered at a discount, and TestFlight beta testing for developers.