Xcode 6 Allows Developers to Test Larger iPhone and iPad Screen Sizes
With the release of Xcode 6 today after Worldwide Developer Conference, developers have found an option within Xcode to size apps for devices referred to as "Resizable iPhone" and "Resizable iPad", as pointed out by Mac4Ever [Google Translate]. The option is next to other Apple devices, including iPad Air, iPhone 5s, and iPad Retina.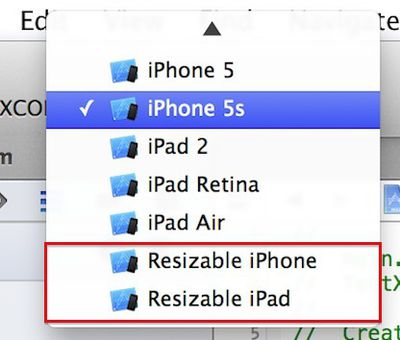 The options are likely to enable developers to start developing apps that fit on the rumored larger 4.7 and 5.5 inch screens of the iPhone 6 and, perhaps, the rumored 12-inch iPad Pro. Another photo of the Xcode simulator shows the difference between an app visually optimized for an older iPhone in what appears to be the resolution for one of the two iPhone 6 models.
It's not yet known what the exact resolutions are for the 4.7 and 5.5 inch iPhone 6 models or even the rumored 12-inch iPad Pro, but the "resizable" functionality would allow developers to explore building versions of their apps for larger screens that are currently available.