Covered Banners on Upper Floors of Moscone at WWDC 2014
Apple's WWDC Keynote kicks off tomorrow, and while we've posted about iOS 8 banners and OS X 10.10 banners, there are also covered banners on the upper floors of Moscone that we neglected to point out.
Appleinsider points out the existence of the covered banners, but only were able to get poor quality shots from afar.
In the two levels above, Apple has additional banners, but they're still covered up. While the floors aren't accessible to outsiders (or even registered attendees yet), is has been possible to catch a sneak peak in previous years by trespassing on the top floor of the Fifth and Mission parking garage, which is technically closed.
TheVerge, however, was able to get a peek of one in their WWDC photo gallery.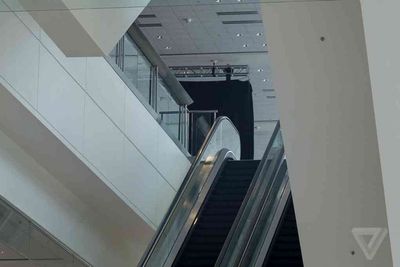 Covered banners aren't unusual at WWDC, and will show technologies and features that are introduced in the Monday keynote address. We already know Apple will be featuring iOS 8 and Mac OS X 10.10 at the show.
Apple is offering a live video stream of the Keynote on Monday. We'll have live text and photo updates here on MacRumors, as well as live Twitter updates at MacRumorsLive.
Sign up for our newsletter to keep up with Apple news and rumors.