Apple to Offer Live Video Stream of WWDC Keynote on June 2
Apple today updated the front page of its website to announce that it will be offering a live video stream of next Monday's keynote address at the company's Worldwide Developers Conference in San Francisco. The keynote kicks off at 10:00 AM Pacific Time.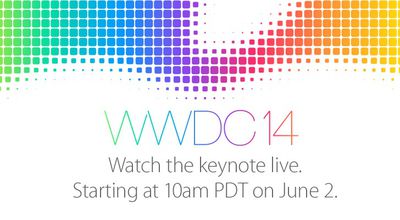 Users will need Safari on Mac/iOS or QuickTime 7 on Windows in order to watch the stream, and Apple will also be making the stream available through a channel on Apple TV.
A number of announcements are expected at the WWDC keynote, with OS X 10.10 and iOS 8 expected to be the major focus of the event. OS X 10.10 in particular will reportedly be receiving the most attention as it will be receiving a facelift somewhat similar to that seen with iOS 7 last year. iOS 8 is said to be a more modest update, although there will undoubtedly be plenty of changes and additions relevant to users and developers alike.
Hardware announcements are a bit less certain, with two highly anticipated and long-rumored products in the iWatch and a revamped Apple TV unlikely to make their appearances at the event. Apple's rumored Retina MacBook Air may also not be ready, but the company could slip in some other announcements such as updates to the MacBook Pro or outdated Mac mini, or perhaps a low-priced iMac.