Apple Reportedly Asking Chinese Authorities to Crack Down on iPhone 6 Leaks
iPhone rumors this year have included a steady stream of mockups, case designs and alleged schematics for the iPhone 6 emerging from China and other Asian countries. Sonny Dickson, well-known source of Apple hardware rumors, claims this wellspring of leaked information may be drying up due to increased security efforts by Apple and Chinese authorities.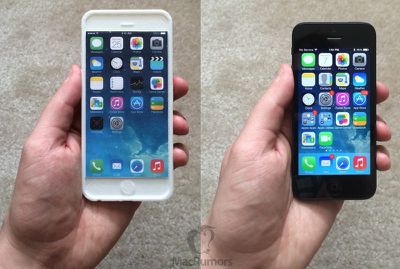 iPhone 6 mockup (left) obtained by MacRumors and iPhone 5 (right) in the hand
Dickson claims Apple is working with Chinese officials to stifle leaks about the iPhone 6, hiring approximately 200 security officers to catch merchants who are selling accessories allegedly for the iPhone 6.
There are about 200 security officers trying to catch those who dare to sell i6 accessories. — Sonny Dickson (@SonnyDickson) May 30, 2014
Apple is known for being a secretive company, with Tim Cook promising shortly after he took over as CEO that he was going to "
double down
" on secrecy when it came to future product information. Cook may be able to adequately control the flow of information from Apple's employees by
reminding them
to "do the right thing," but his power does not extend to Asian suppliers.
These overseas suppliers often are the weak link as they are privy to Apple's unreleased products, but lack the strict oversight that discourages employees from intentionally leaking sensitive product details.