Hands-On with iPhone 6 Case and Physical Mockup
Over the past several weeks, a number of photos and videos have shown cases and even physical mockups of Apple's rumored iPhone 6. Most of the cases and mockups appear to have been based either on alleged design drawings published by Japanese magazine MacFan in late March or on essentially identical information leaking through other channels.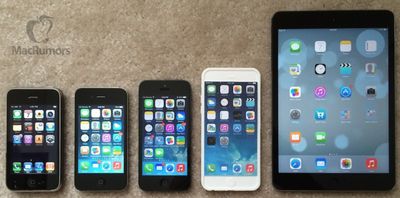 Left to right: iPhone 3G, iPhone 4, iPhone 5, iPhone 6 mockup, Retina iPad mini
(Click for larger)
MacRumors
has now obtained one of these iPhone 6 cases and separately 3D printed a very rough physical mockup based on the
MacFan
drawings for the 4.7-inch model. Together, the case and the mockup give a good idea of the feel of a larger iPhone.
The larger iPhone definitely makes one-handed operation more difficult, even for relatively large hands, but many users are already accustomed to using two hands much of the time. With the larger body, Apple appears to be shifting the sleep/wake button from the top edge of the device to the right side, and this new location feels very natural in our hands, with the index finger sitting right on the button in a left-handed grip.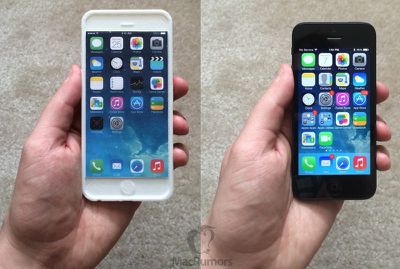 iPhone 6 mockup (left) and iPhone 5 (right) in the hand
(Click for larger)
Our physical mockup includes our
mocked up home screen
showing that a 4.7-inch screen at the same 326 pixels per inch as the iPhone 5s would yield a 1334x750 display that could display an additional row of icons. While the mockup is based on the design drawings posted by
MacFan
, we did elect to slightly depress the surface of the device in order to help its physical features stand out more.

iPhone 5 in iPhone 6 case (left) and edge views of case (right)
(Click for larger)
With the case and mockup in hand, we encourage readers with questions to share them in the discussion thread associated with this story and we'll do our best to address them.