4.7-Inch iPhone 6 Mockup Comparison to iPod Touch Highlights Design Similarities
Italian site Macitynet, which previously published several photos of a fairly good quality physical mockup of the rumored 4.7-inch iPhone 6 based on design drawings from Japanese magazine MacFan, has now shared an interesting new photo set [Google Translate] comparing the mockup to a current-generation iPod touch.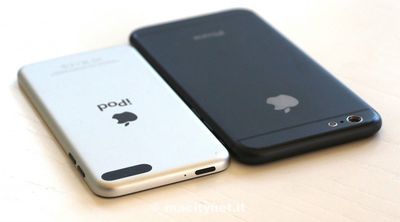 The photos clearly show how similar the two devices are in design, from the curved edges on the rear shell to the style of speaker holes along the bottom edge. The iPhone 6 at 7.0 mm thick based on the design drawings is clearly thicker than the iPod touch at 6.1 mm, although the iPhone 6 would still be noticeably thinner than the iPhone 5s at 7.6 mm.


The iPhone 6 of course has larger height and width than the iPod touch, given that the body must accommodate a 4.7-inch display compared to the 4-inch display of the iPod touch.


The style is naturally also similar to the iPhone 5c, which itself took some design cues from the iPod touch, although the bright rear shell colors are the defining features of the iPhone 5c and they are unlikely to make their way into Apple's flagship iPhone 6.
In addition to the 4.7-inch iPhone 6, Apple is rumored to be launching an even larger model with a 5.5-inch display, although that may follow several months after the smaller version. High-quality physical mockups of that device have yet to appear, although users with access to a 3D printer can
print their own
using files based on the design drawings published by
MacFan
earlier this year.