Apple's Beats Music Deal Seen as Key to Bolstering Declining iTunes Revenue Momentum
Apple reportedly is close to inking a deal with Beats Electronics for $3 billion, an acquisition that Morgan Stanley analyst Katy Huberty believes is important if Apple wants to further monetize its 800 million iTunes user base and boost revenue in its increasingly important online services division.
Apple's online services segment, which includes iTunes, is often overlooked because it contributes so little to the company's overall revenue. But as Huberty points out in a recent message to investors, online services shouldn't be so casually tossed aside as the segment "is an underappreciated growth and margin lever for Apple." It may be small, but online services revenue is expected to grow and margins are predicted to increase in 2014, driven primarily by rising App Store revenue.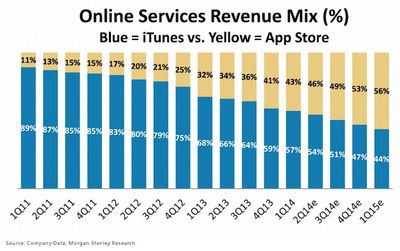 Online services hold promise, but Apple needs to address iTunes, which is losing ground to rival music services. While App Store revenue is increasing, Huberty notes that iTunes revenue is falling as users turn to streaming services such as Pandora and Spotify to meet their music needs. This decline "raises concerns about Apple's ability to monetize the new base of emerging market customers," writes Huberty. According to Huberty's calculations, each iTunes account spent an average of $3.29 in the first quarter of this year, down 24% year-over-year.


Huberty believes Apple could reverse this trend and improve monetization with the introduction of a subscription music service. One of the quickest ways to launch a subscription music service under the iTunes umbrella would be to acquire an existing service, something Apple appears to be doing with Beats Electronics and its Beats Music service.
Press reports, including the Financial Times and Wall Street Journal, suggest Apple is considering the purchase of Beats Electronics, which would give Apple an accessories business focused on headphones and a music streaming service. Apple has not commented and we have no knowledge of any pending deals. However, a subscription music service -- whether organically built or acquired -- is a logical extension of iTunes.

Spotify, which is generally viewed as the leader in streaming music, has 10M paying subscribers or about 25 % of its over 40M active user base (MAU). If Apple charges $10 per month, same as Spotify, every 1% penetration of Apple's 800M user base, equates to $960M revenue annually, adding 8 pts of growth to online services and half a point to total company growth.
Apple's acquisition of Beats would bring not only a streaming music service, but also veteran music producer Jimmy Iovine and musician Dr. Dre to Apple. The pair are considered to be the "big prizes" of the acquisition and could help Apple negotiate favorable music deals for a streaming music service.
Looking beyond Beats, Huberty argues that Apple also could bolster its online services with the introduction of a mobile payments option, an area of opportunity recently acknowledged by CEO Tim Cook. The launch of the rumored iWatch also may contribute to Apple's online services as customers bolster App Store revenue by purchasing apps compatible with the new device.