Beats Co-Founders Dr. Dre and Jimmy Iovine Expected to Take on Senior Roles at Apple Following Acquisition
Beats co-founders Jimmy Iovine and musician Dr. Dre are both expected to take on senior roles at Apple following Apple's acquisition of Beats Electronics, reports The Wall Street Journal. The two may not take on full time positions, but will commute from the Los Angeles area, where Beats is based, to meetings in Cupertino and elsewhere as necessary.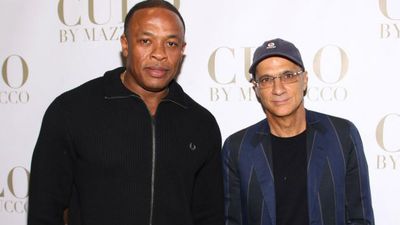 Citing people familiar with the matter, The Wall Street Journal suggests that specific roles for Iovine and Dre remain unclear, but Iovine will be leaving his role as chairman of Interscope Geffan A&M records, a division of Vivendi SA's Universal Music Group. Both Dr. Dre -- real name Andre Young -- and Iovine could help Apple secure deals with record labels and attract younger customers.
While Mr. Iovine's rock-star temperament could still ruffle some feathers in tech-centric Cupertino, it may help Apple broker deals in the music industry and appeal to the younger consumers who gravitate to Beats headphones.
Apple is said to be working on an overhaul of iTunes in order to boost declining music sales. The addition of the Beats Music streaming service along with a thriving hardware business and two seasoned veterans of the music industry may help the company achieve the drastic revamp it's aiming for while introducing new revenue streams.
Today's report follows a report from the New York Post suggesting Iovine will join Apple as a "special adviser" to Tim Cook on creative matters. While Apple's $3.2 billion acquisition of Beats Electronics has yet to be completed, Dr. Dre seemingly confirmed the acquisition in a video posted this morning, where he alluded the merger would make him the "first billionaire in hip-hop."
As noted by The Wall Street Journal, Apple's hiring of Dr. Dre and Jimmy Iovine represents Tim Cook's willingness to step out of the spotlight. Earlier this month, the company welcomed former Burberry CEO and high-profile hire Angela Ahrendts as the new retail chief. Other Apple executives, like Jony Ive and Craig Federighi, have also been stepping into the spotlight more often than they did under Steve Jobs.