In line with an earlier rumor, Apple today launched the 8 GB iPhone 5c in India, reports The Times of India. Apple is offering the phone with a Rs. 4,000 discount ($68), bringing the price down to Rs 33,500 ($572). For a limited time, Apple also is including a free case worth Rs 2,000 with every purchase.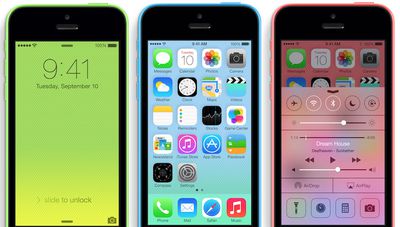 Apple released the 8 GB version of the iPhone 5c earlier this year and brought the phone to more than 16 countries outside the US. Apple introduced this low-capacity model as an affordable option that also is compatible with a growing number of developing LTE networks overseas.
Apple has been expanding its presence in India, bringing back the iPhone 4 earlier this year and growing its network of retail stores in the country. According to Canalys's 2013 estimates, India is the third largest smartphone market in the world and growing. Apple is aware of the opportunity, with CEO Tim Cook reporting in Q3 2013 that iPhone sales in the country increased 400 percent year-over year.
The 8GB iPhone 5c sits at the bottom of the iPhone lineup in India, nestled in between the reintroduced 8GB iPhone 4 (Rs. 22,900) and the 16GB iPhone 5c (Rs. 41,900).