'GBA4iOS' Game Boy Emulator Shut Down After Nintendo Files DMCA Notice
GBA4iOS, the popular Game Boy emulator for iOS, has been removed by its creator Riley Testut on GitHub after Nintendo filed a Digital Millennium Copyright Act (DMCA) takedown request, reports The Next Web. First sharing the news through his Twitter, Testut stated that the emulator will continue to function normally on iOS devices, as in-app ROM downloads will be "temporarily suspended."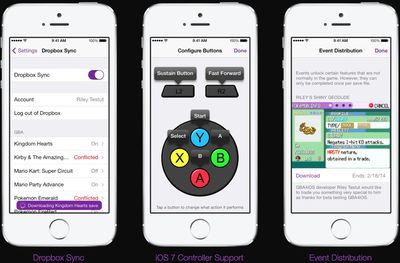 GBA4iOS saw its last major update in February, which added iPad support, controller skins, iOS 7 controller support, Dropbox integration, and an in-app web browser that could used to download Game Boy games from any ROM website. The emulator was also notable for bypassing Apple's App Store restrictions as it could be installed directly on an iOS device by visiting the project's official website and tapping a download link.
Traditionally, Apple has taken a strict stance on emulators in the App Store, which has caused apps like GBA4iOS to seek alternative methods for user downloads. For instance, open emulators such as iMAME and iDOS have made their way onto the App Store only to be pulled a short time later likely because of potential legal issues.
Despite the removal of GBA4iOS, the 'NDS4iOS' Nintendo DS emulator for iOS devices released last month remains available on its respective web page. However, it is unknown if Nintendo will file a similar takedown notice in efforts to prevent potential piracy.