Transition to '3x' iPhone 6 at 1704 x 960 Likely Smoother Than Move to Retina
With an expected transition to a larger screen on the iPhone 6, MacRumors forum member pgiguere1 has taken a look at how non-optimized apps would appear on a rumored 1704 x 960 display that would move from the current "2x" pixel doubling technique to achieve Retina quality to a "3x" technique.
In Apple's earlier transition to 2x Retina displays, it was relatively simple for non-Retina assets to be scaled up using automatic pixel doubling techniques to represent a single non-Retina pixel as a 2x2 grid of Retina pixels until developers could get up to speed. But with a potential move to 3x (or 1.5 times current Retina), many have wondered if that transition would be awkward.
As pgiguere1 shows, while developers will undoubtedly want to optimize their apps with new 3x graphical assets, automatic scaling of current 2x assets will look considerably better on this new iPhone display than non-Retina assets did during the transition to 2x.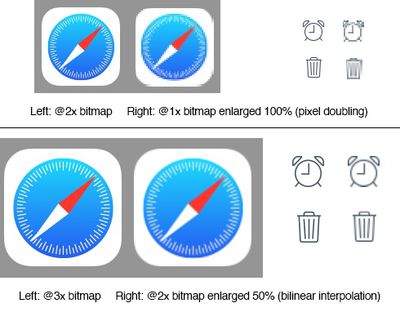 Keep in mind however that unlike with the @1x -> @2x transition we had in 2010, this time we'd only have a 50% enlargement rather than 100%.

The thing is, a 50% enlargement with interpolation doesn't look worse than a 100% enlargement with pixel-doubling, despite the loss of details due to the interpolation. [...]

As you can see, older non-@3x-optimized apps would actually look better on an @3x iPhone than non-@2x-opitmized apps did on an @2x iPhone. Add to this the fact that the screen's pixel density would be higher this time around, and the perceived image quality difference would be even smaller.


While Apple is unlikely to announce a new resolution for the iPhone 6 at next month's Worldwide Developers Conference, the company is likely to begin providing more tools and encouraging developers to speed a push toward resolution-independent vector graphics and other changes that will facilitate a smooth transition to denser displays. But for those developers who are not ready by iPhone 6 launch day, their users are likely to still have a decent experience with unoptimized apps.