LG's Heart Rate Earphones and Lifeband Touch Launching This Month
Earlier this month, a clandestine report on anonymous sharing site Secret suggested Apple might be exploring the possibility of sensor-laden EarPods able to measure heart rate. The report was later revealed to be a hoax, but earphones with built-in sensors are a reality -- for LG.
First introduced during January's CES, LG's fitness-oriented Heart Rate Earphones are designed to offer real-time heart monitoring. The earphones, which use sensors to measure blood flow through the inner ear, connect to a small medallion that is strapped to the arm or attached to a waistband, tracking metabolic rate and maximum oxygen consumption, while allowing users to listen to music.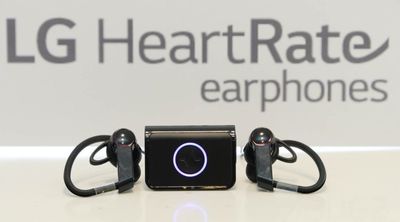 The medallion that connects to the earphones is designed to work as a data processing hub, sending biometric information directly to the LG Fitness app or other popular third-party apps on an iPhone via Bluetooth. The earphones are said to offer hi-fi sound and they include a built-in microphone for making calls.
LG's earphones are also designed to work alongside the company's Lifeband Touch Activity Tracker, which is a full-fledged fitness band that measures a range of fitness-related statistics, including distance covered, calories burned, steps taken, and more.
LG's Heart Rate Earphones are designed to provide accurate heart rate data by measuring blood flow signals in the ear via PerformTek sensor technology while also delivering excellent sound. Because of the unique physiology of the ear, wearers can get more accurate health and fitness metrics with LG's Heart Rate Earphones than with other devices, especially when engaged in physical activity. LG Heart Rate Earphones can be used alone or with LG Lifeband Touch.
The Heart Rate Earphones and the Lifeband Touch can both be pre-ordered today from Best Buy and will see an official launch on May 18. The earphones retail for $180, while the Lifeband Touch can be purchased for $150.
Though the report of Apple developing EarPods with sensors was fabricated, the company has invested research into the concept, filing several patents on the subject. It has also recently hired Eric Winokur, a researcher who developed an ear-worn vital signs monitor, likely for its wearables team. Despite this evidence, there's currently no indication that Apple is working on or plans to work on EarPods with sensors, but LG has demonstrated that the technology certainly exists should the company choose to go in that direction.