Apple Considering Dramatic Overhaul of iTunes to Address Declining Music Downloads
Apple is considering a dramatic overhaul of its iTunes music store as iTunes Radio has failed to stop declining music downloads, reports Billboard. As reported earlier this year, the company may create an on-demand music streaming service similar to Spotify in order to boost sales as well as an Android iTunes app.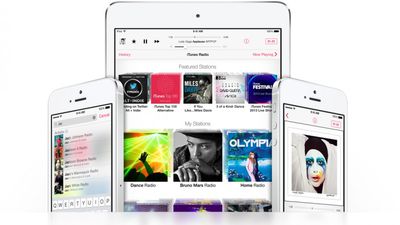 "iTunes Radio hasn't solved the problem of refreshing the iTunes store," said a senior label executive. "While listeners are clicking the buy buttons, the traffic it is driving is in the low single digits of listeners."
Only one to two percent of iTunes Radio listeners go on to buy songs and digital music sales were down some 5.7 percent in 2013, according to a January report. Overall music downloads have been declining upwards of 15 percent while iTunes is also losing money to competitors like YouTube, Spotify, and Pandora.
iTunes still accounts for upwards of 40 percent of U.S. music sales revenue and iTunes Radio is the third largest music streaming service after Pandora and iHeartRadio, but it has not thus far generated the sales that Apple expected.
According to the report, Apple's options for improving iTunes are being debated internally and among the company's content partners as it works to overcome competition from Android and an increasing consumer preference for streaming music services.
Meanwhile, in the U.S., Apple is losing its most valuable customers. "Two-thirds of its high-value customers are now in subscription services," said one source. "That has been an eye-opener for them."
While iTunes Radio allows users to create radio stations based on song selections, an on-demand service similar to Spotify would potentially allow users to select songs at will and could carry a monthly fee. iTunes Radio is available for free and supported by ads, with Apple also making its iTunes Match service available to customers.
With an on-demand subscription service, Apple could supply all music models customers are interested in, offering a la carte downloads via iTunes, free music via iTunes Radio, and a premium on-demand service. According to one music executive, Apple has radical plans for iTunes in store, which could lead to a "completely different" experience in three to five years.