Physical iPhone 6 Mockup Compared to Galaxy S5 in New Images
Earlier this week Italian site Macitynet shared images of a high-quality physical mockup of the iPhone 6, based on earlier design drawings and renderings. The site has now shared [Google Translation] a new series photos comparing that mockup to a Samsung Galaxy S5 display model, showing how Apple's larger iPhone might stack up to Samsung's flagship offering.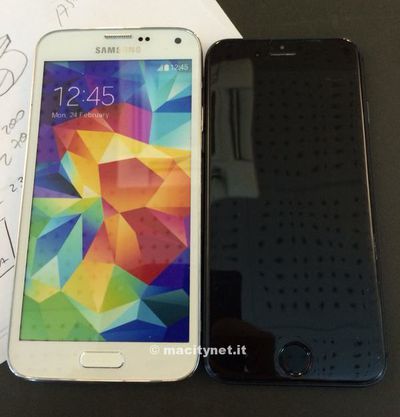 Samsung's Galaxy S5, released in April, has a display size of 5.1 inches, along with a thickness of 8.1mm. That makes it both larger and thicker than the iPhone 6 mockup, which appears to have a display size of 4.7-inches. While the thickness of the mockup cannot be determined, rumors have suggested the iPhone 6 will be thinner than the existing 7.6mm iPhone 5s, possibly between 6.5 and 7mm.


The mockup in the photos was reportedly created by a case manufacturer and is said to be a "final" version used to make sure cases and accessories will fit Apple's iPhone 6, which means that it could be a solid representation of what we can expect from Apple's larger phone.
Several design elements that have been seen in other case models and mockups are present in this high-quality mockup, including rounded edges, rectangular volume buttons, a rounded rear flash, a protruding camera, and a power button located on the right hand side of the device for easier one-handed use. ConceptsiPhone (via BGR) has compiled many of Macitynet's photos into a video, showing the mockup next to an iPhone 5s and an iPhone 4s.
Apple's 4.7-inch iPhone is expected to launch in the fall months, possibly as early as September. Along with a thinner frame and a larger display, it is also expected to include an A8 processor and camera improvements. A second 5.5-inch iPhone is also rumored to be arriving
several months later
due to production delays.