Hints of Touch ID Support for iPad Found in iOS 7.1 Code
Since the release of the iPhone 5s last September, most observers have expected that the Touch ID fingerprint feature will be making its way into the iPad lineup as Apple is able ramp up production on the sensors, so it is no surprise that KGI Securities analyst Ming-Chi Kuo earlier this month predicted that both the iPad Air and Retina iPad mini will be gaining the feature later this year.
Actual evidence of iPad Touch ID support has now been discovered by French iOS developer Pierre Blazquez, as noted by iDownloadBlog. The evidence comes in the form of a BiometricKit bundle in iOS that serves as the framework for the Touch ID functionality, with the bundle being listed as compatible with both iPhone/iPod and iPad families.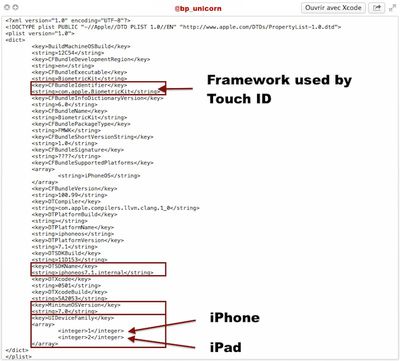 Apple classifies its iOS devices into three families, with iPhone/iPod receiving a "1" designation, iPad receiving a "2" designation, and Apple TV classified as "3". BiometricKit is currently showing compatibility with both 1 and 2 families, although it is not exactly clear when iPad was added to the list.
Apple is likely to stick to its typical yearly upgrade cycle for this iPad generation, meaning that new iPads should appear in the latter part of this year. Kuo predicts that the new iPads will appear in late Q3 around the same time as new iPhones and perhaps Apple's much-rumored iWatch.
Update 9:07 AM: As noted by Benjamin Mayo, the reference has been around for "several iOS updates", but it still indicates that iPad support is likely in the works.