Apple Researching Temperature, Pressure, and Humidity Sensors for Mobile Devices
A pair of patent applications published today by the U.S. Patent and Trademark Office and spotted by AppleInsider describes how an electronic device such as an iPhone, iPad or even a wristwatch could be used to detect ambient conditions such as temperature, pressure, humidity and sound. The applications appear just as Apple has been rumored to be incorporating such functionality into the iPhone 6, and the company's rumored iWatch has also been said to include an array of sensors.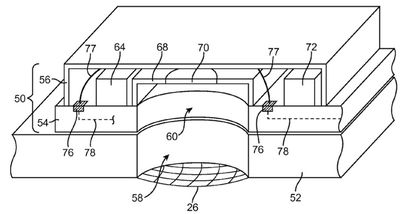 Cutaway view showing environmental sensors inside a mesh-covered recess in a device's body
The first patent, titled "
Electronic Devices With Environmental Sensors
," describes a device equipped with a speaker, microphone and a suite of sensors to monitor environmental conditions in the immediate surroundings. Sensor components may include a temperature sensor, a pressure sensor, a humidity sensor and other sensor combinations.
An electronic device may be provided with environmental sensors. Environmental sensors may include one or more environmental sensor components and one or more acoustic components. Acoustic components may include a speaker or a microphone. Environmental sensor components may include a temperature sensor, a pressure sensor, a humidity sensor, or other sensors or combinations of sensors for sensing attributes of the environment surrounding the device.
The second patent, "Electronic Devices With Temperature Sensors," is more specific, covering electronic devices that can monitor ambient temperature. In this scenario, a thermal sensor could be embedded into a button, switch or slider component. A piece of thermally conductive metal could be used to transfer temperature data from the air or from an item such as a finger placed on the material to a sensor embedded within the device.
Though these are inventions and not a specific feature roadmap for future devices, they do suggest Apple is considering the ways in which sensors could be incorporated into a device to improve the overall user experience. For example, Apple could use the temperature sensor technology to build an iWatch that could warn you when you are starting to overheat while mowing the lawn in the high summer heat.
Looking beyond the patent applications, Apple has been hiring experts from the health and medical sensor field in recent years. The long list of new hires include former Philips sleep researcher Roy J.E.M Raymann, biosensor hardware engineer Nancy Dougherty, pulse oximetry expert Michael O'Reilly and others. These engineers allegedly are joining Apple to work on its iWatch team, which may also include exercise physiologists and other non-hardware experts.
Apple's iWatch is rumored to include biometric functions such as pulse rate, blood oxygen saturation, glucose levels and more. Apple is said to be making the health-tracking experience more accessible to the general public and may use the iOS 8 Healthbook app to compile this health and fitness data and present it in a user-friendly way.