Apple's Mac Pro is now shipping within three to five weeks in the United States, a slight improvement from its previous shipping estimate of four to five weeks.
Both stock and custom configurations list the same shipping estimates, indicating that Apple is slowly making its way towards achieving supply/demand balance on the professional desktop computers.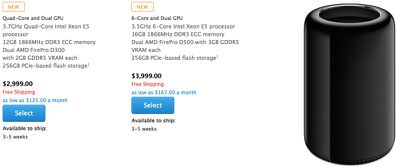 In early April, shipping estimates were as high as five to six weeks and back in early 2014, shipping estimates were as high as eight weeks, with Apple giving estimates of "March" or "April" for computers ordered in January or February.
Apple's Mac Pro has been in short supply since its December launch, selling out of stock configurations in a matter of hours. While some early buyers received their machines as early as December 24, buyers who ordered custom configurations had to wait much longer to receive their machines, as did purchasers who ordered after December 19.
"Demand for the all new Mac Pro is great," said an Apple spokesperson in December. "It will take time before supply catches up with demand."