Some Early Mac Pro Orders Won't See Promised February Delivery
Just hours after Apple began taking orders for the new Mac Pro back in December, shipping estimates slipped to "February". However, Apple will not meet that deadline for a number of customers.
One customer told MacRumors that an Apple representative told him earlier today that his 6-core unit, originally ordered on January 7, "will not ship in February as originally stated" and instead "will be shipping in 5-7 business days and will be reflected in the on-line shipping status early next week." Some Mac Pro buyers on the MacRumors forums have been notified of similar delays. The delay puts deliveries in the first or second week of March.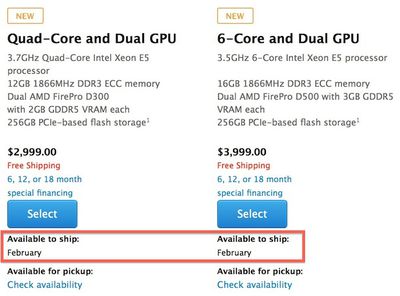 The reader told us that he received two emails at the beginning and middle of the month promising delivery by the end of February, however, both those emails turned out to be incorrect. Here's the text of one from February 17:
We'd like to give you another update on the status of your Mac Pro order.

Your Mac Pro is still scheduled to ship in February. We'll send you an email notification with the delivery date and tracking information once its on its way.

For the most up-to-date delivery information, visit Order Status on the Apple Online store. If you have an iOS device, you can check your order status using the Apple Store app for iPad or iPhone.

We appreciate your patience and look forward to getting the new Mac Pro to you as soon as possible.
Current U.S. Apple Online Store orders for the Mac Pro have an expected ship date of April.