Shipping Estimates for Mac Pro Online Orders Slip to February 2014
Just hours after Apple began taking orders for the new Mac Pro with shipping estimates of "by December 30" for stock configurations, availability has already slipped significantly with new orders currently being quoted shipping in February.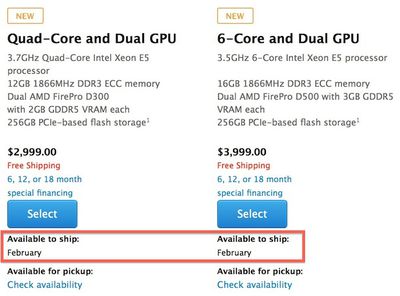 The rapid move to push shipping off by over a month indicates that Apple has indeed been struggling to have any Mac Pro units at all ready to ship in order to meet its previously announced launch timeframe. Reports had indicated that Intel's chips are in short supply and may have been one of the major bottlenecks for Mac Pro production, but with an all-new design, high-end technology throughout, and Apple shifting assembly to the United States, there are any number of areas where Apple may be experiencing production constraints.
Update: Apple issued a brief statement to Forbes citing "great" demand for the new Mac Pro.
"Demand for the all new Mac Pro is great and it will take time before supply catches up with demand," an Apple spokesman said today.
Some customers with build-to-order configurations are even seeing shipping estimates of March.