Analysts Predict Q2 2014 Decline in iPad Sales, Slight Increase in iPhone Sales
Sales of Apple's iPad and iPhone remained strong during the holiday season with record quarterly sales reported in Q1 2014. Analyst predictions for Apple's second quarter of its fiscal year suggest iPhone sales may rise slightly, while iPad sales may decline slightly, reports Philip Elmer-DeWitt of Fortune's Apple 2.0 blog.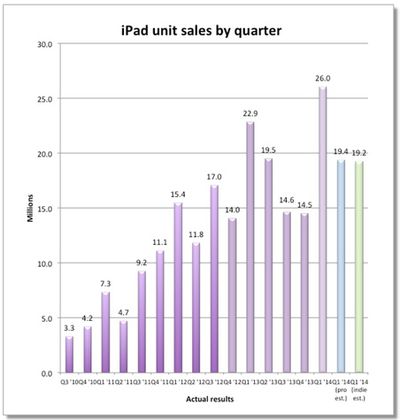 The consensus estimate from 21 Wall Street professionals and 13 amateur analysts predict iPad sales of 19.3 million, a 0.7 percent decline in Q2 2014. This is a significant change from Q2 2013, which saw a 55 percent year-over-year increase.
The consensus estimate, at 19.3 million, would represent a 0.7% decline, with the pros slightly more optimistic (at 19.4 million) than the amateurs (19.2 million). Dragging down the amateur numbers is the 15 million estimate submitted by the Braeburn Group's Matt Lew. Tugging in the other direction is Horace Dediu's 21.8 million. One represents a year-over-year decline of 23%, the other an increase of 12%.
This dip in sales may only be temporary as Apple is expected to launch updated models of the iPad Air and iPad mini with Retina Display later this year, and may launch a larger-screen iPad Pro sometime in future after production issues are solved.
Apple will announce its earnings for the second fiscal quarter (first calendar quarter) of 2014 on Wednesday, April 23. The earnings release is posted just after 4:30 PM ET following the close of regular stock trading, and the conference call is scheduled to follow at 5:00 PM Eastern / 2:00 PM Pacific.