iOS 7 is now on 85% of devices connected to the App Store, according to new numbers posted on Apple's
App Store developer support page
. The numbers come five months after the operating system's
original release
, and just two weeks after the
release
iOS 7.1, which was the first major update to iOS 7 with added visual tweaks, CarPlay support, and Touch ID enhancements.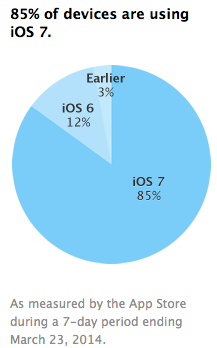 The increasing adoption rate of iOS 7 has also led to a drop in iOS 6 usage, with the older operating system now installed on just 12 percent of devices. Three percent of devices also continue to use even older versions of iOS. In early December, iOS 7 usage was at
74 percent
, jumping to
78 percent
later in December and then to
80 percent
in late January.
Apple's data, which comes directly from the App Store, represents the most definite iOS 7 adoption information for developers.